Control A Audio Post Production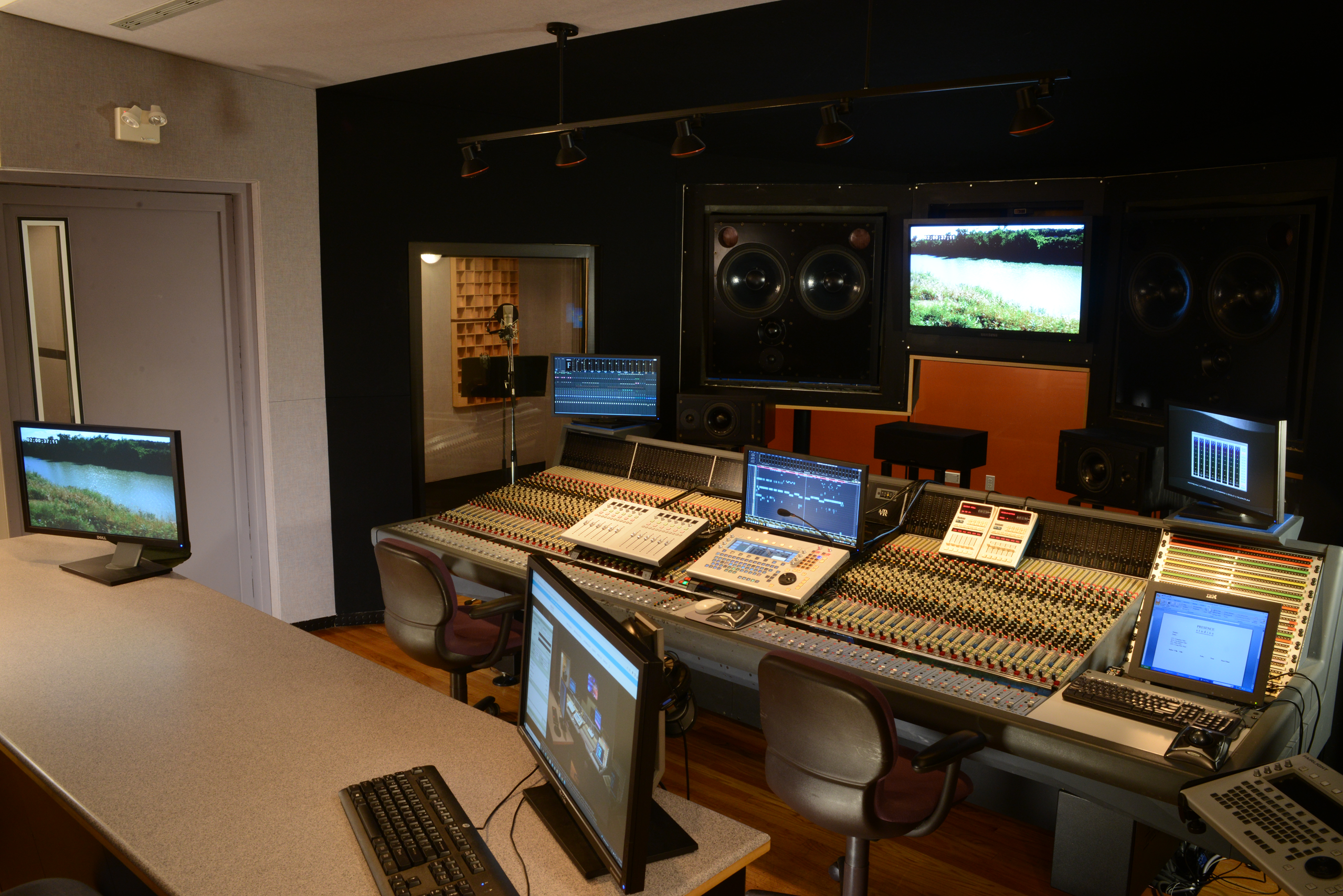 Presence Studios Control A is a World Class Audio Post Production mix room; equipped with a perfect hybrid of the most bleeding edge Digital Workstation technology, the most sought after classic analog equipment and the simply one of the finest Stereo and 5.1 Surround audio monitoring environments anywhere in the world. All video formats are supported with the ability for a producer / director to monitor the project's progress off site live and in real time via streaming HD video and stereo uncompressed audio
Staffed by International Award Winning veteran engineers with dozens of recent credits for the most memorable Large Screen, Network and Broadcast productions, Presence Studios continues to be the focal point of Audio Post production needs for clients around the globe.
Control A Audio Recording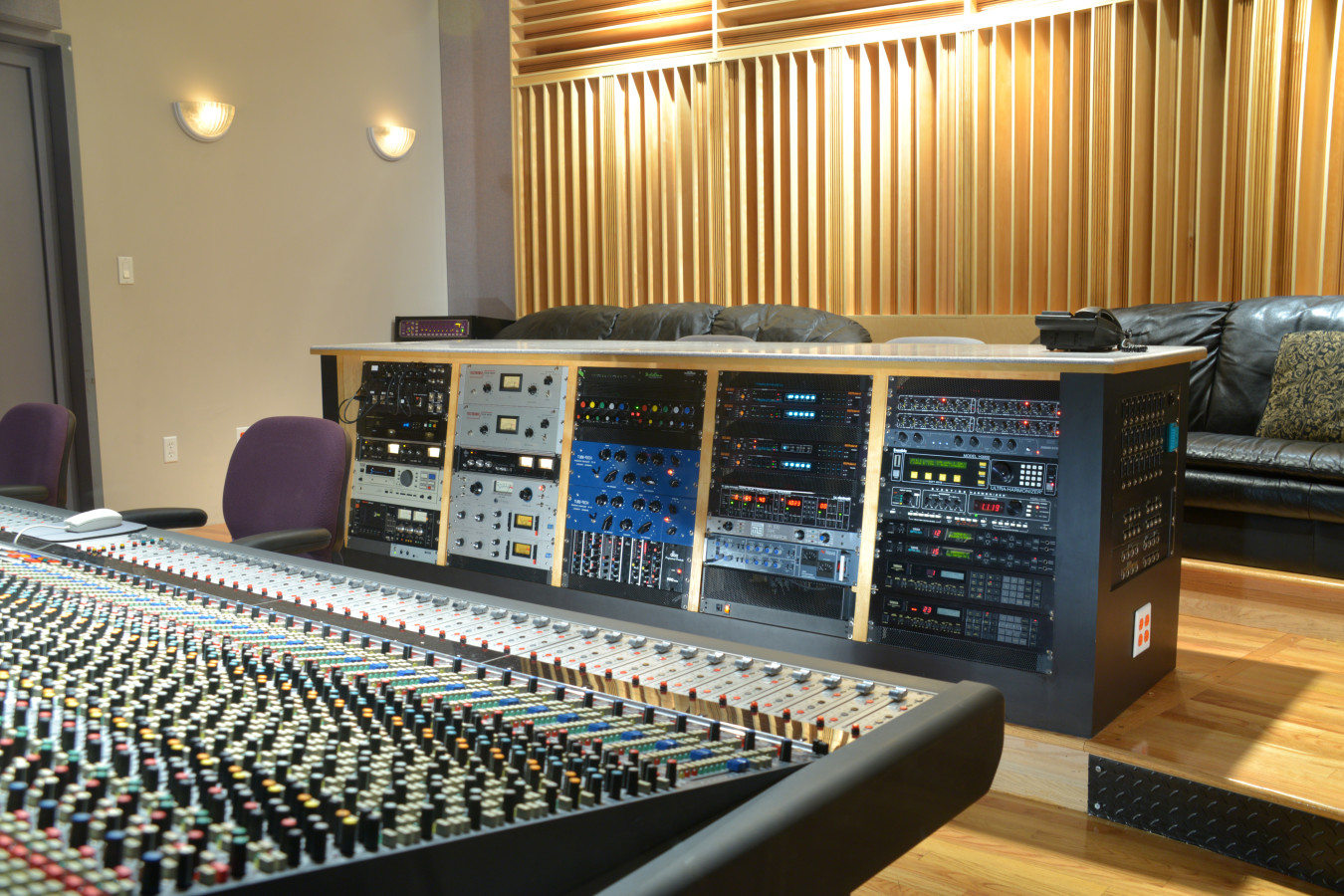 P

resence's Studio A is a certified acoustically accurate mix room equipped with a Neve VR-Legend 60 console. All modern professional Digital Audio Workstation protocol are supported using the Studio's 5th generation Fairlight Xynergi Post Production DAW. Aspera client file transfers allow real time downloads of large video files in .MXF and .AAF formats. Audio Monitors include Stereo: ATC SCM-300A and ATC SCM-20SLS speakers –

5.1Surround: ATC SCM-20SLS speakers (5) with ATC C6 Subwoofer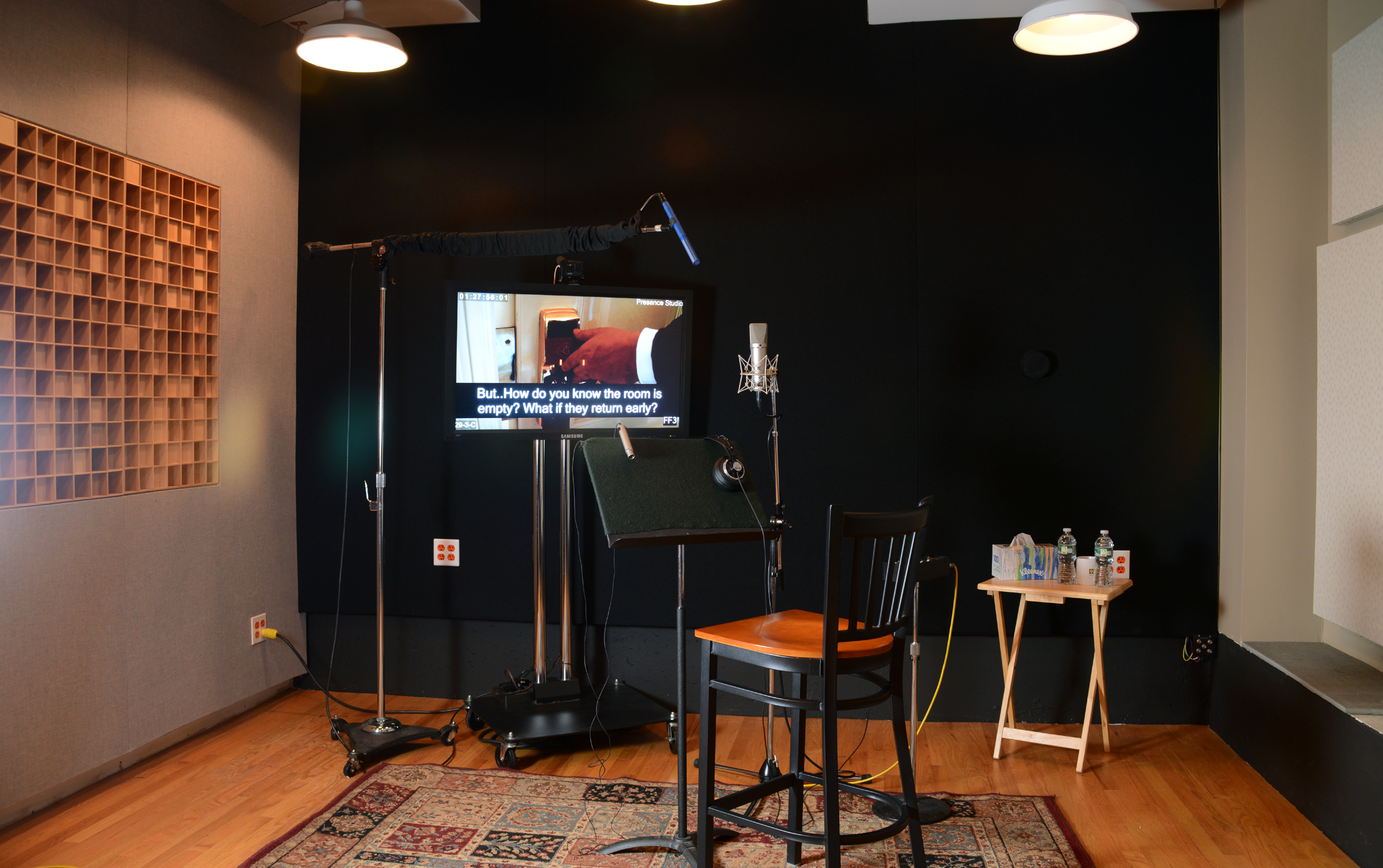 Our Studio A ADR Stage is regularly in use by A-list Film and Animation artists & directors for true real-time ADR recording live or offsite via Skype, Zoom, Blue Jeans, Session Link Pro or Source Connect data links.
Animation clients can simultaneously film artist performances in HD for expression logging and/or view the HD video performance along with uncompressed stereo audio live via direct streaming conference peer to peer communication applications at fiber optic speeds of 1 Gbps both up and  down. This process creates countless off-site viewing location options for producers and directors.  Visual Bars, Dialog and Audio cues are all integrated into a single system for maximum speed and efficiency.
Microphones include Sanken COS-11 Lavalier, Schoeps CMIT-5U Boom and Neuman U-87 distance processed through original GML 8300 Microphone preamplifiers.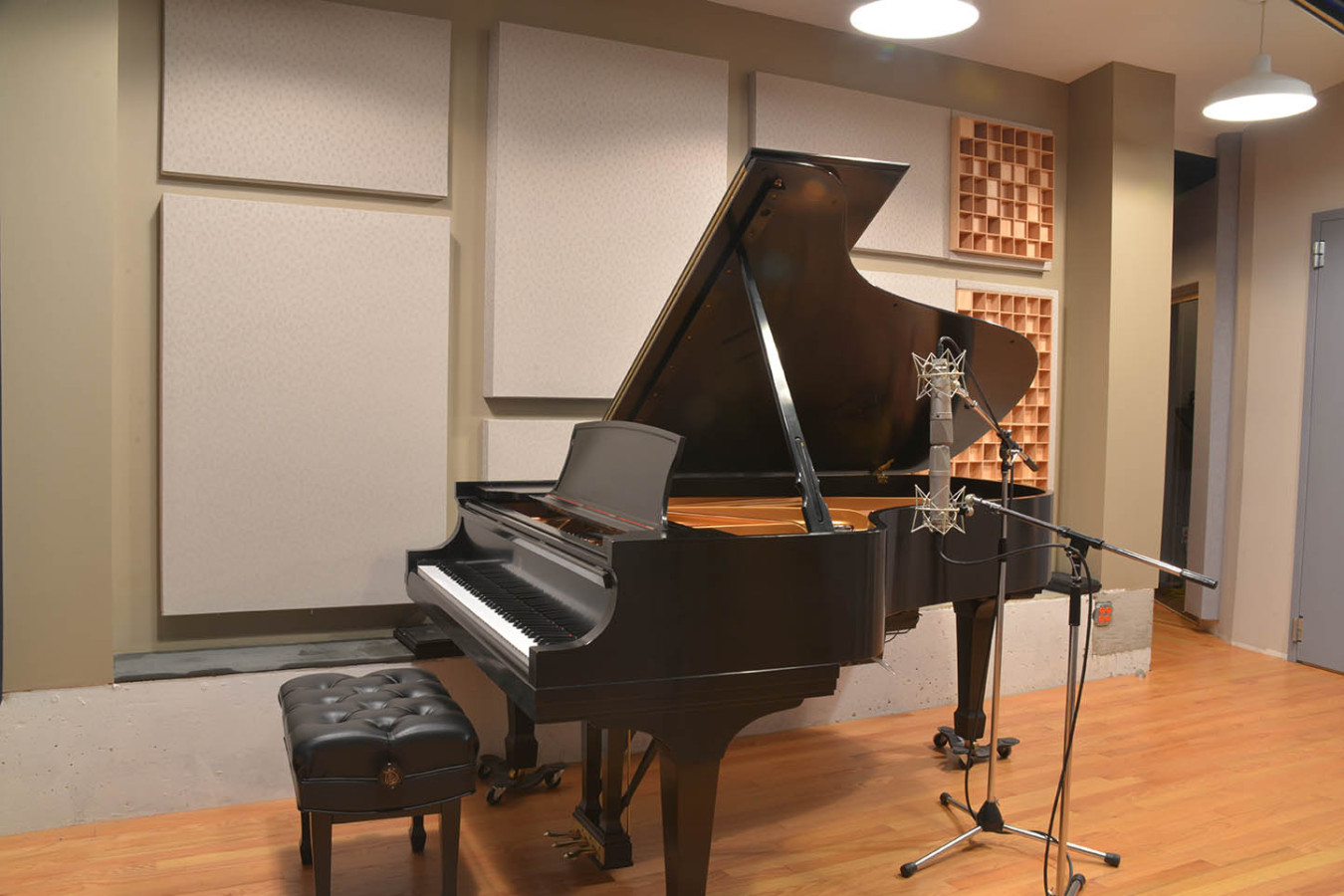 The Music & Entertainment industries award winning producers, engineers and artists love using the classic Neve VRL-60 Analog Console for production & vocal recording. Classical musicians are regular clients on our beautiful Steinway B piano, both for solo and ensemble works. A large collection of the industries finest microphones and pre-amps coupled with total accuracy in monitoring guarantee the client the highest fidelity recording experience anywhere.
Broadcast Control / Edit B
Broadcast Control / Edit B has currently undergone a complete makeover and is now back on line. This new custom suite is designed for live broadcast & studio filming complete with (4)  BMD Studio Pro 4K cameras equipped with Olympus M.Zuiko 4/3 lenses, BMD ATEM switchers, specialized lighting and live effects for both Web and Data Stream broadcasting. 
The new Edit B  Broadcast Control is the center point for all camera & audio sends, live switching, web based graphics and other external elements.  SDI visual and audio communication tie lines as well as CAT 6 PoE+ cabling are assignable for live feeds or tapings in progress throughout the facility and grounds.
M

ulti camera shoots (up to 8 cameras) can be switched for live feeds or recorded for downline editing onto our Davinci Resolve Editing systems. Audio is recorded using one of  (5) Fairlight Xynergy DAW systems with instantaneous playback of both audio and switched video available for Producer or Director review.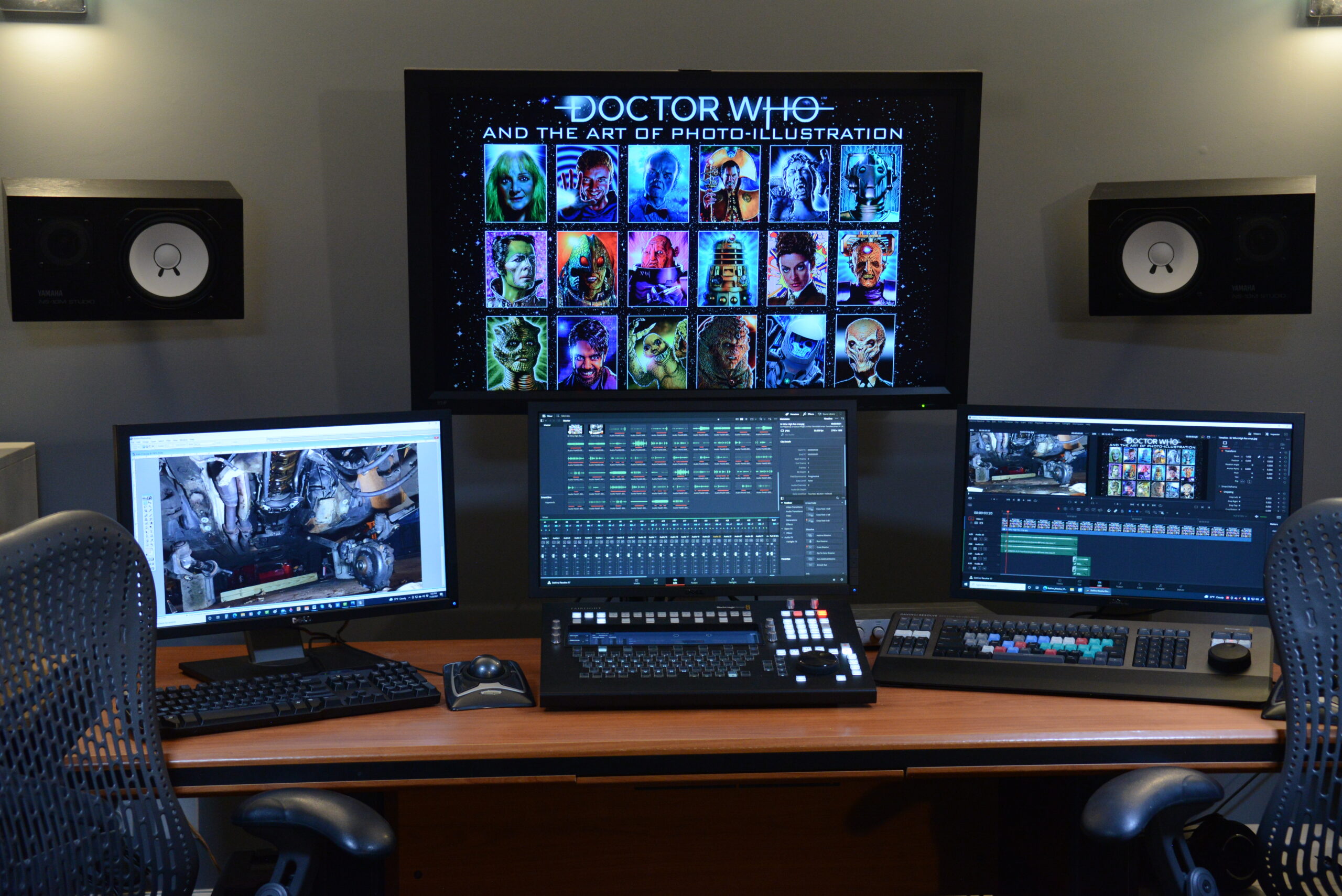 Edit C is our Davinci Resolve Video Editing suite complete with BMD Resolve Editing Keyboard and Speed Editor hardware.
The system is fitted with a Decklink Studio 4K interface to accomodate virtually all current and legacy format conversions & ingesting tasks. Live web broadcast is switched using the integrated ATEM Extreme ISO for in house and the ATEM Mini Pro ISO on location.
The recent Edit C upgrade is one of many capital expenditures we have made to punctuate our commitment to excellence in content development, creation, and delivery.